Apex Releases new 2000V/µs, 450V Power Amplifier in PowerSIP
Apex Microtechnology releases latest power operational amplifier, delivering high power with exceptional speed.
Product Overview
Apex Microtechnology has announced the release of the PA198, the latest edition to our family of precision power operational amplifiers. The PA198 is a 450V power operational amplifier with a very high 2,000V/µs slew rate targeted at high voltage applications including instrumentation, piezoelectric transducers and electrostatic transducers and deflection. Output voltages can swing up to ±215V on dual supplies, and up to +440V single supply. This high voltage amplifier utilizes a MOSFET output stage and has a power bandwidth of up to 2MHz. When operating within a safe operating area, the PA198 has a maximum continuous current of 200mA.
The safe operating area (SOA) for PA198 has no second breakdown limitations and can be observed with all types of loads by choosing an appropriate current limiting resistor. High accuracy is achieved with a cascode input circuit configuration. All internal biasing is referenced to a bootstrapped Zener-MOSFET current source. As a result, the PA198 features an unprecedented supply range and excellent supply rejection. The PA198 is a hybrid product design housed in a space saving, electrically isolated 12-pin PowerSIP package which lends itself to high-density circuit board layouts.
PA198 Key Specifications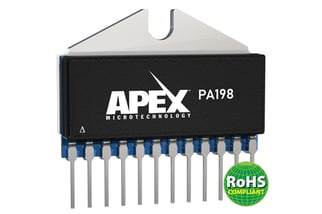 High voltage - 450V

High slew rate -

2000V/µs

Low quiescent current - 22.5mA

High output current - 200mA

High power bandwidth - 2MHz

Cascode input circuit configuration



Pushing Boundaries
"PA198 showcases Apex's mission to push the performance boundaries of its power operational amplifiers, doubling the slew rate and power bandwidth of its sibling, PA98, while also providing ultra-low noise." says Director of Business Development, Jens Eltze. "The device underlines again our commitment to supporting our markets and customers with products that solve difficult analog power challenges."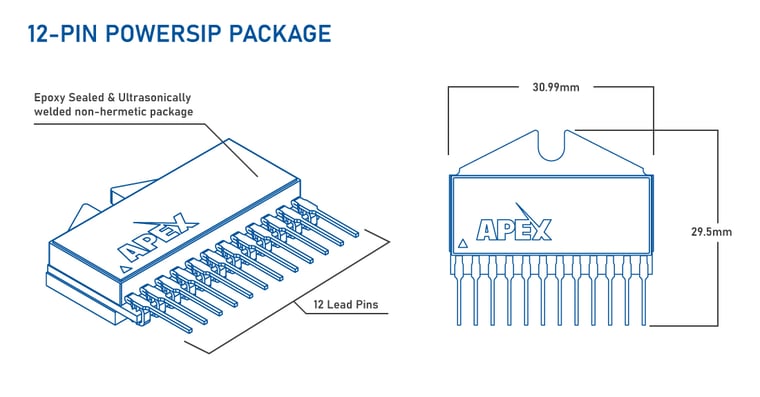 Typical Applications
The PA198 is a multi-purpose power operational amplifier, well suited to many applications and markets. Typical applications include electrostatic deflection, piezoelectric transducers, voltage and current source, and instrumentation, among others.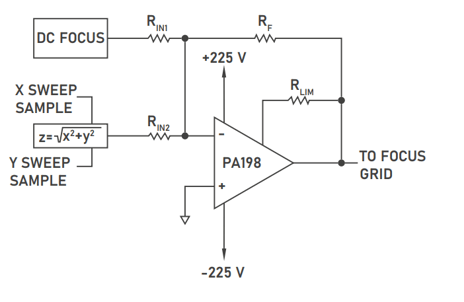 Pricing, Availability, and Evaluation Tools
The PA198 is currently in volume production with sample units available for qualified applications. For additional details on availability, device lead-times, and pricing please contact the authorized Apex Microtechnology local sales representative or distribution partner for your region. To support rapid prototyping and device evaluation Apex offers the EK86 evaluation kit for PA198. Complete product information is available online on PA198's product page For technical support, contact Apex Applications Engineering by calling 800-546-2739, or by emailing apex.support@apexanalog.com.
- The Apex Microtechnology Team