Apex Releases SiC Half-Bridge Integrated Power Module: SA111
The SA111 Sets New Standards for High Power and Thermal Management in a Surface Mountable Package with Top-Side Cooling.
Product Overview
Created with Silicon Carbide (SiC) technology and leading-edge package design, the SA111 is expanding the boundaries of thermal efficiency and power density in analog modules. In a surface mount package and with a body of just 20 mm x 20 mm, the SA111 can provide continuous output currents of 24 A (32 A with A-grade variant), manage supply voltages of up to 650 V, and achieve switching frequencies of up to 1 MHz. This thermally efficient package utilizes top-side heat sinking, allowing the user to maximize board layout. The SA111's Silicon Carbide MOSFETs enable the device to withstand higher thermal stress, managing junction temperatures of up to 175°C. The SA111 SiC power module offers a fully integrated solution allowing for increased device control and protection, featuring an integrated gate driver, under-voltage lockout, and active Miller clamping.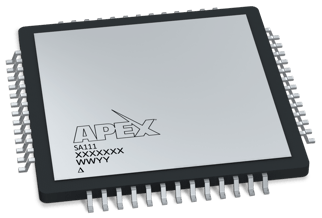 SiC MOSFET technology

Integrated gate driver

Up to 650 V supply voltage

24 A continuous output current (32 A with A-grade Variant)

Up to 1 MHz switching frequency

Surface mountable device with top-side cooling

Under-voltage lockout

Active Miller clamping



"The SA111 underlines again Apex Microtechnology's ability to provide leading-edge high-power solutions in a very compact footprint.", says business development, Jens Eltze. "Apex's patented PQ package addresses the demand from the market for surface mountable devices with top-side cooling."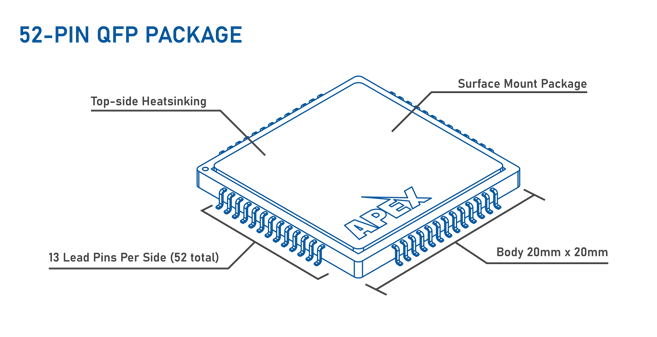 Typical Applications
With the surface mount package style and exceptionally compact size, designers are afforded the ability to maximize board real estate, allowing for the use of multiple devices in circuit designs with high power requirements. A wide range of target applications include MRI gradient coil-drive, magnetic bearings, motor drive, test equipment, server-fans, Power Factor Correction (PFC) and AC/DC and DC/DC converters.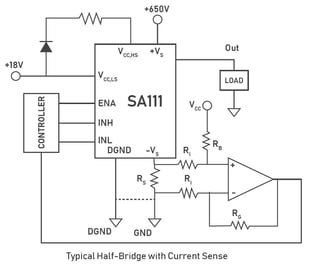 Silicon Carbide - The Next Chapter of Power Analog Design
The SA111 is the third Apex device that incorporates Silicon Carbide (SiC), a compound material composed of silicon (Si) and carbon (C) that is utilized in the semiconductor industry to gain an efficiency advantage over traditional silicon devices. The durability of Silicon Carbide gives the material increased thermal stability over other devices in its class. Some of the benefits that give Silicon Carbide products the advantage over typical materials can be:
Efficiency Advantages
Excellent switching characteristics over wide temperature ranges
Reduced power loss compared to silicon or IGBT solutions
Lower application/system operating cost
Reduced Heatsinking
Compact modules
Lighter systems
Increased portability
Enhanced Capabilities
Increased power delivered

Improved reliability

Broad operational temperature range

Increased voltage supplies
View our Silicon Carbide White Paper to Learn more about our use of Silicon Carbide technology and our SiC product family! For additional information or inquires contact: https://apexanalog.com/sales/contact_us.html
- The Apex Microtechnology Team