Silicon Carbide and its Importance in Apex Products
Silicon Carbide Technology
Silicon Carbide (SiC) is a compound material composed of silicon (Si) and carbon (C) that is utilized in the semiconductor industry to gain an efficiency advantage over traditional silicon devices. The physical bond of Silicon Carbide is extremely durable which gives the material increased thermal stability; the wide band gap and broad thermal capabilities allow for an expanded temperature range compared to traditional silicon. Some of the benefits that give Silicon Carbide products the advantage over typical materials can be:
Efficiency Advantages
Excellent switching characteristics over wide temperature ranges
Reduced power loss compared to silicon or IGBT solutions
Lower application/system operating cost
Reduced Heatsinking
Compact modules
Lighter systems
Increased portability
Enhanced Capabilities
Increased power delivered

Improved reliability

Broad operational temperature range

Increased voltage supplies
Apex Microtechnology offers a family of products that utilize Silicon Carbide MOSFET technology, this includes the SA310 and SA110 as well as products currently in development. The value of using Silicon Carbide in Apex power modules is realized in several areas:
Excellent switching performance, which allows for the lowest possible switching losses

Integrated gate drive, which can allow for simplicity of use and reduced development costs

Compact packaging to minimize device footprint and maximize power density
SA310
The SA310 is a fully integrated three-phase power module designed primarily to drive Brushless DC (BLDC) and Permanent Magnet Synchronous (PMSM) motors or DC/AC converters. The module uses Silicon Carbide MOSFET technology to improve efficiency over other devices in its class.
Key Specifications: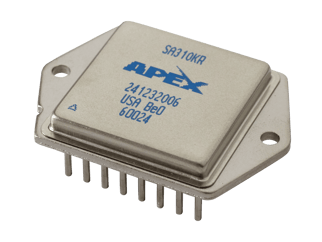 SiC MOSFET technology

Integrated gate drive

Up to 650V Supply Voltage

30A Continuous Output Current per phase, 80A peak

Up to 400kHz Switching Frequency

Internal bootstrap operation

Under voltage lockout

Active Miller Clamping

Magnetic (transformer) Isolation


To Learn More
SA110
The SA110 is a high current, high voltage half H-bridge integrated power module that uses Silicon Carbide (SiC) MOSFETs with integrated gate drive. The SA110 is ideal for applications where focus is on thermal performance, high efficiency, and having a compact design.
Key Specifications: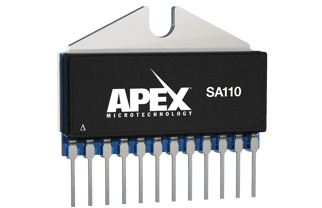 SiC MOSFET technology

Integrated gate drive

400V Supply Voltage

20A Continuous Output Current, up to 28A in A-grade

400kHz Switching Frequency

Under-Voltage Lock Out

Active Miller Clamping


To Learn More
To Learn more about our use of Silicon Carbide technology and upcoming additions to our SiC product family, contact: https://www.apexanalog.com/sales/contact_us.html
- The Apex Microtechnology Team